Oji Holdings Corporation announces that on August 23, it concluded a Basic Agreement on Protection of the Pitta with the Ecosystem Trust Society(Shimanto-cho, Takaoka-gun, Kochi Prefecture, Chairman: Mr. Takio Nakamura) in order to protect the habitat of the pitta, which has been designated as a threatened species.

The area covered by the agreement is the Koyagauchi Forest (area approximately 260 hectares) in Shimanto-cho, Takaoka-gun, Kochi Prefecture owned by Oji Holdings.Pitta habitat surveys conducted by the Ecosystem Trust Society since 2014 have shown that the company-owned forest is mating habitat for a number of pitta. Therefore, it was decided to conclude the Basic Agreement on Protection of the Pitta in order to preserve the environment so that the pitta can survive into the future.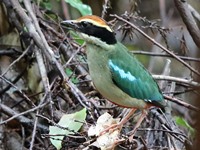 Provided by the Ecosystem Trust Society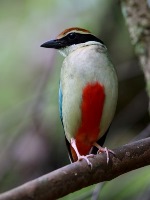 The pitta is a beautiful migratory bird that is about 18-20cm long with multiple colors on its body.It arrives in Japan from spring through early summer and after breeding in the evergreen forests of Kyushu and Shikoku is said to head off towards Thailand and Borneo in the autumn to spend the winter. However, the details of its mode of life are not yet known. It is designated as "Threatened EN" (high risk of extinction in the wild in the near future) on the Japanese Red List of Japan's Ministry of the Environment.

The Ecosystem Trust Society is an environmental protection group which aims to conserve the habitats of diverse creatures such as the pitta. So far, the group has acquired about 280 hectares of forests to protect the pitta and forest ecosystems in addition to establishing and running the Shimanto Pitta Forest Nature Center, a training facility that primarily aims to protect the pitta, with the cooperation of Shimanto-cho and others.

Shimanto Pitta Forest Nature Center
where the signing ceremony was conducted
The Oji Group owns about 470,000 hectares of forest (equivalent to approximately twice the area of the Tokyo metropolitan area) in Japan and overseas and has stated sustainable forest management as part of its Environment Action Program. As part of this, the group is promoting initiatives to preserve the biodiversity of forests and engages in activities that include protection of the Itou Japan's largest freshwater fish (Sarufutsu Forest, Hokkaido) and conservation of alpine plants (Samani Forest, Hokkaido).
Going forward, the Oji Group will make even more efforts to maintain and promote the diverse functions of forests.



Contact
Yasushi Iizuka
Public Relations Office, General Affairs Department, Oji Holdings Corporation
Phone: +81-3-3563-4523