Oji Holdings Corporation would like to announce the decision that our subsidiaries in Malaysia which are GS Paper and Packaging Sdn Bhd (held by Oji HD 75% and Marubeni Corporation 25%) and HPI Resources Bhd (held by Oji HD 100%) jointly acquire 100% of all the issued shares of Dazun Paper Industrial Company Sdn. Bhd. (hereinafter "Dazun"), which is a corrugated container manufacturer in Malaysia, has been approved in the Board of Directors' meeting held today, and GS Paper and Packaging Sdn Bhd and HPI Resources Bhd have executed a shares sale agreement with the current owner of Dazun this afternoon. Share-holding ratio of Dazun by GS Paper and Packaging Sdn Bhd and HPI Resources Bhd shall be 50%: 50% respectively after this acquisition.

Background of the acquisition
As one of our major policies for growth strategies, Oji Group has announced the further expansion of overseas business to strive towards the realization of an innovative value-creating company. As part of that policy, with regards to business field of household and industrial materials, we will continue to aggressively aim for the expansion of packaging business in the Southeast Asia, India and Oceania region, where significant economic growth is expected. As of now, the number of business sites in this region has been expanded to 34 (please refer to appendix).

In Malaysia, the number of our Group's packaging business sites is 9. As for the site manufacturing corrugated container, we have 2 sites in North area (near Penang), 2 sites in Central area (near Kuala Lumpur) and 2 sites in South area (near Johor Bahru). As Dazun with which the shares sale agreement has been executed owns a factory in Central area (Selangor state), our Group will have 2 sites in North area, 3 sites in Central area and 2 sites in South area. Upon this acquisition of Dazun located in Central Area having the largest consumption of corrugated container and the most competitive market in Malaysia, our Group will obtain well-balanced supply system among the Group to meet regional demand and our business foundation will be further strengthen. Installation of additional equipment is also being considered utilizing idle land owned by Dazun in the same plot in future aiming for further increase in our Group's market share.

We will continue constructing optimum sales system and supply chain through close coordination within each region while effectively utilizing our Group's rich management resources in Malaysia, other Southeast Asia countries, India and Oceania. At the same time, we will move forward to enter into untapped countries and to expand complementary business (folding cartons, label printing/converting, flexible packaging, etc.) to the existing business so as to provide total packaging solution services.
Overview of Dazun
| | |
| --- | --- |
| Company name | Dazun Paper Industrial Company Sdn. Bhd. |
| Location | Selangor, Malaysia |
| Date of Establishment | October, 1989 |
| Business Lines | Manufacturing and Sales of Corrugated Container |
| Number of Employees | Approximately 180 |
Recent business performance of Dazun
| | | |
| --- | --- | --- |
| | December, 2013 | December, 2014 |
| Sales Revenue | MYR 48 million (JPY1.3 billion) | MYR 52 million (JPY1.4 billion) |
| Total Assets | MYR 46 million (JPY1.2 billion) | MYR 44 million (JPY1.2 billion) |
*MYR 1 million = JPY 26.8million (as of February 23, 2016)
Impact on financial results
There will be no impact on our financial results' forecast ending March 2016 due to this acquisition.
Packaging Business Sites in Southeast Asia and India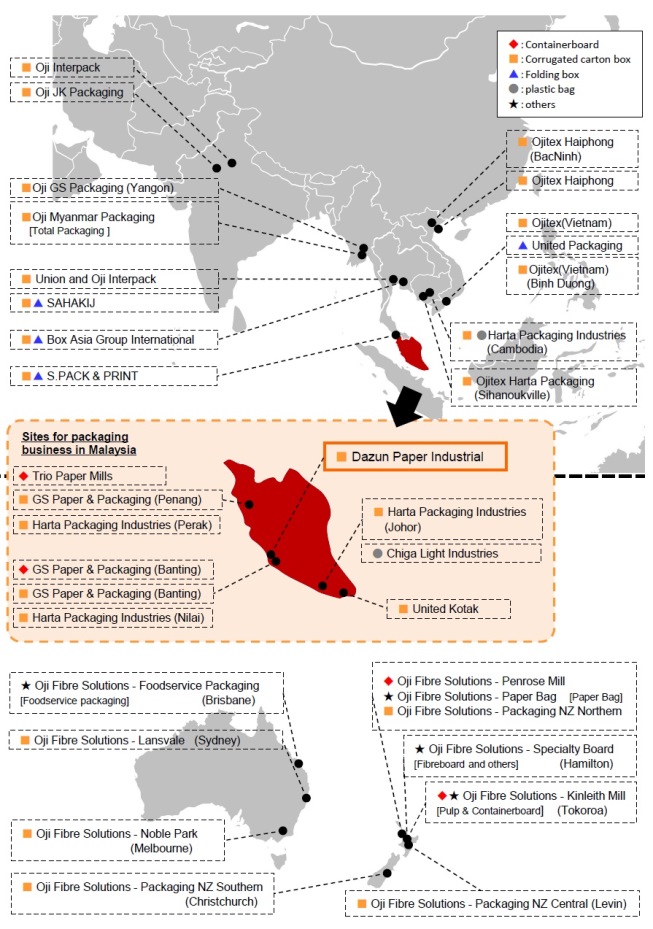 Contact
Mr. Koichi Tano
Senior Managing Director,
Oji Industrial Materials Management Co., Ltd.
Phone: +81-3-5550-3064